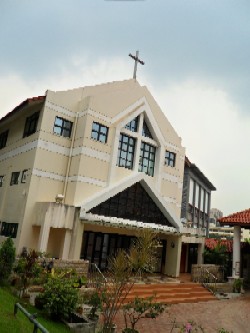 Welcome To Ang Mo Kio Presbyterian Church!
We praise God for leading you here and we want to invite you on a journey Towards Christ-likeness!
We trust that as we walk along this path of faith together, God will draw you closer to Him and mould you into the likeness of His Son, Jesus Christ.
As a church, we have been using the ground within Presbyterian High School since 1991.
Our demographics comprises youth, young adults and families.
Our vision to be "A vibrant church, growing and influencing others towards Christlikeness" expresses our desire to be a community actively growing and reaching out to one another as well as those outside of our community.
As a newcomer, we hope that you will find an active community within Ang Mo Kio Presbyterian Church and together grow to be a vibrant church.
More information about the church can be found within our webpage and if you have a specific enquiry, feel free to contact us.